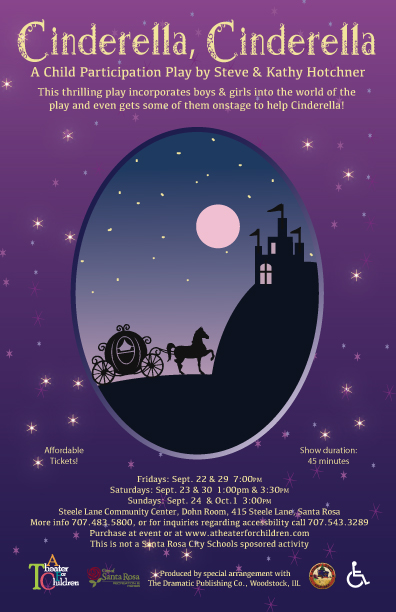 Project— Actor's Theater For Children Cinderella Flyer
Scope—
The objective was to create a quality flyer promoting Actor's Theater For Children's upcoming performances that would appeal to both young children and their parents of both English and Hispanic heritage in Santa Rosa, CA. The flyer would be passed along to each child within the appropriate age demographic via their school/classroom.
It was requested to avoid using any Disney oriented imagery, which proved to be a challenge to find something existing that worked in harmony with the criteria. An image I came across in my search inspired another idea, and it seemed the quickest route to recreate a vector version of the new idea in Illustrator. The horse and carriage were pre-existing elements I dropped onto a fictitious land of gradients, ovals and dot stars. All that was dropped into another oval with gradient border, dropped onto another gradient layer with stars, also created in illustrator using custom symbol sprayer, text and affiliate logos also placed.
The right title font was the other key element, as the project required something both strong enough to do it's duties as a title font and capture attention, and 'Cinderella' enough, that was also free to use.
ACTF is a theater company consisting of adults staging performances for children.